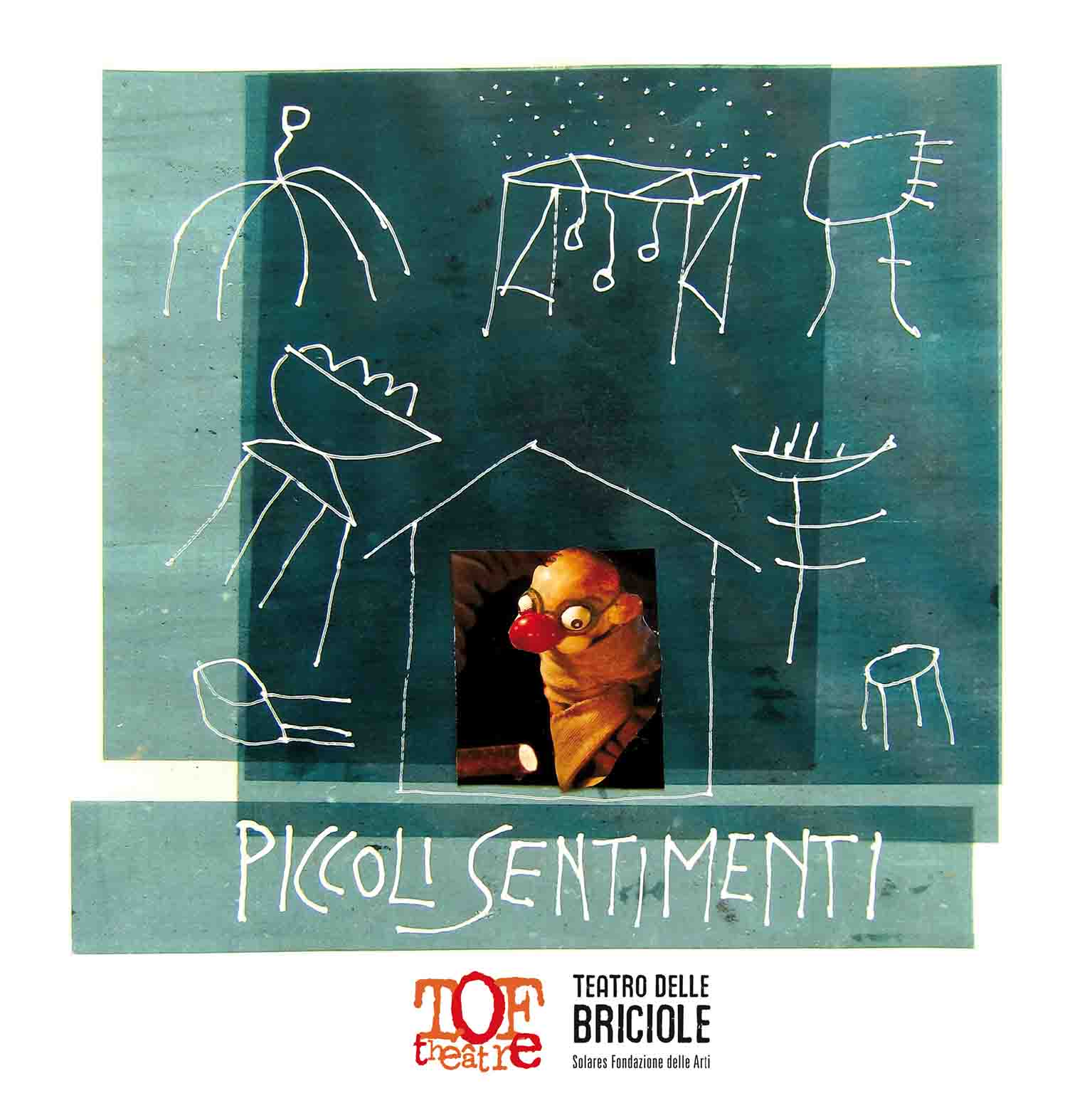 A show without words for an audience of age 3 and up, drawing its inspiration from the world of Antonio Catalano.
It all began when Flavia Armenzoni, the Director of the Teatro Delle Briciole, presented the idea to Alain Moreau, Artistic Director of the Tof Theatre. The idea took form, following a series of improvised experiments with a little puppet and seeing them evolve within the setting of miniature wooden constructions and strange towers in Antonio Catalono's workshop, the creator of Sensitive Worlds...

The audience sits on the very edge of the stage within a cocoon of veils, as close to the action as possible. In front of them is a set with earth, a moon-loaf of bread, a sky of bamboo and a number of little wooden constructions made of tiny twigs and sticks. A light breeze flutters the leaves. It is the beginning of the world. Then, all of a sudden, something stirs under the earth: a creature, an indefinable thing, crawling on all fours. When its face appears the performance of «Little Emotions» truly begins and this unique character, no bigger than a hand, starts to experience feelings, one by one. Fear, desire, solitude, joy, anger, wonderment - the whole spectrum is explored but without a word, just hearing, sight and touch (after all, there is more than one sense that captures feelings!)In an exquisite blending of the Tof Theatre's unhinged and sensitive world of puppetry, the 'art brut' of Antonio Catalano and the 'untamed lutherie' of patamusician Max Vandervorst, Piccoli Sentimenti concocts a hymn to the marvel of the marvelous awakening to artistic sensibility!



A show dreamed up by Antonio Catalano and Alain Moreau
Script, puppetry and staging: Alain Moreau 

Artistic accompaniment : Antonio Catalano
Scenography: Alain Moreau, along the lines of an original idea instigated by Antonio Catalano
Creation of the soundscape, musical instruments and musical score: Max Vandervorst
Creative team: Sandrine Hooge, Céline Robaszynski
Creation of lighting: Emiliano Curà and Dimitri Joukovsky

Performance: Céline Robaszynski and Lisou De Henau
Touring stage manager: Bao Khanh Ngouansavanh or Jérôme Lenain
Assistant to the scenography : Céline Robaszynski
Costumes : Patrizia Caggiati
Construction du plateau et bidouillages divers : Paolo Romanini
Setting in orbit and inspired advice: My-Linh Bui
Precious help with direction : Sarah Demarthe
Production : Tof Théâtre and Teatro delle Briciole
Co-production : Festival A pas contés (Dijon), Le Granit - Scène Nationale de Belfort, L'Arche - Scène Nationale du Pays de Montbéliard, L'Yonne en Scène.
Distribution : My-Linh Bui - Kurieuze & Cies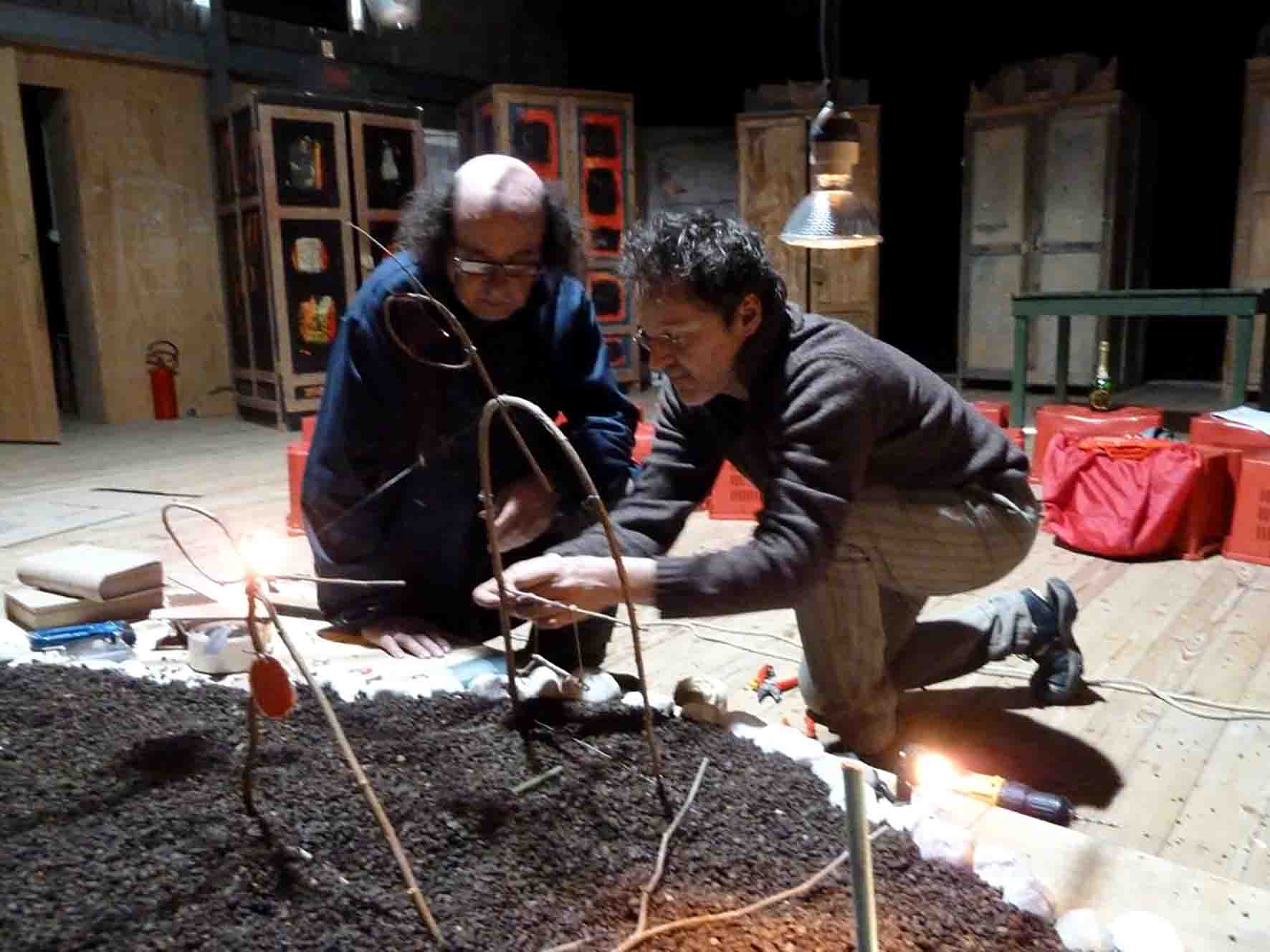 The Genesis of the project...
"Unlimited Freedom". These were the words Flavia Armenzoni used when she confided 
me with the creation of a show
 at Teatro delle Briciole...
 Naturally, I was thrilled.
 We soon envisioned a co-production. After all, the two companies have worked closely for years and the timing was perfect. When I returned from Parma, where 
we had begun discussing the project,
I took a few days to visit Antonio Catalano in his bucolic hideaway in the hills at the Casa degli Alfieriof near the Asti region of Italy. As always, we were very happy to see each other again.
 In his workshop, I discovered one of 
this prolific artist's many projects in construction. The floor was scattered with miniature constructions and strange towers made of hazel wood...

It was very beautiful. Antonio explained that it was actually the model for what he envisioned as a monumental outdoor project. I've always loved miniatures and it immediately tempted me...
. I felt a strong urge to explore his strange little world and to merge it with my own. Later on, without him knowing, I went back to his workshop accompanied by a little puppet. I often carry this puppet around with me as it helps me experiment with things in my free time and I've always thought I might do a show with it.... 
After a few minutes of exploring Antonio's sensitive world, I sensed something very interesting happening, something altogether possible! After improvising with my puppet in front of him, Antonio immediately set about building other miniature constructions. And then, very naturally, a sort of Ping-Pong of ideas began - the adventure had begun! A very simple show emerged about curiosity and the discovery of this poetic and strange universe. There was light playing, a changing wind, minimalist music, sounds, sensations.... After three wonderful days of research, the scenography and outlines of the show were already in place.
For Antonio, there was something metaphysical in what he had observed during those few days.... As far as I was concerned, it seemed obvious and indispensable to call on my collaborator and musician Max Vandervorst. He simply had to join us in this fine adventure! 
A deep-seated desire began to take hold of me: I wanted to be guided by the puppet itself, by Antonio's and Max's worlds. I wanted to see the two of them discover each other's talents and to assist me in the fusion of ideas.... I love this project because it came about so spontaneously, without months of thinking it through and without any prior judgment. Alain Moreau, Director
The Birth of "Piccoli Sentimenti"
The Conjunction of Three Worlds
The script of the whole performance came about as naturally as the conjunction of our different artistic domains: fine art, music and theatre, for we all share the same aspirations. Nothing was really formulated but what there was something inevitably in what resulted from this process of give and take between our ideas and input, as they complemented each other perfectly. There was a sort of madness that had to be shared between the plastic artist Antonia Catalano and the musician Max Vandervost, with whom I have worked for the last 25 years. Max had not even spoken to Antonio but when he saw the set design, he immediately wanted to appropriate it, to bring sound and music to it. Both of them have a way of tinkering with everyday objects or natural elements and toying around with them with the insight we have in childhood. Together we built a house. I was the architect, they brought the stones, I put up the walls. This dialogue between the arts has given birth to a complete show, which makes one sensitive to music, the fine arts, theatre and group creativity.

All the little things in life
When we started, we had no idea of what was going to happen. Our aim wasn't to tell a story as much to live it, moment by moment, and to seize the deepest truth of every instant. All three of us traced the outlines of the character's footsteps, a puppet born into life with all the emotions life engenders: sadness, loneliness and wonderment. We wanted the audience to grow with it, to join it in its discoveries, in its journey of self and of whatever it encounters along the way, without prior judgment and with no other aim than to taste and feel the unexpected beauty of all the little things in life.

An initiatory journey whose guide is unidentified
The puppet is at once animal, human, child and adult. It is all of this blended together. Usually my puppets are realistic inventions. If I had produced something more realistic, it would have evoked a post-atomic world still in construction. But that would have told a different story...
. This is very different. I knew what the puppet was going to be the minute I saw Antonio's miniature sets. The puppet set off to explore Antonio's sensitive world and all I had to do in order to build it was to follow where it went. I adapted it so it could find its true place in Antonio's world but without making it completely identifiable. The puppet is a vector for opening the imagination and keeping it open. It is empathetic with its own world of mischievousness, gentle- ness, humor and playfulness—this is what the whole show is built on. It's a worm, a larva in a very early stage. The world it moves through ultimately brings about the metamorphosis. Each one of its musical, visual and emotional discoveries is what makes it grow up. I wanted the audience to literally hear it think and feel, for the audience to say, "I believe it, it's true!".

Who's manipulating who?
Sandrine Hooge, a circus actress, is who I chose to manipulate the puppet. She has no experience in this and yet she immediately found an almost organic relationship with the puppet. I have always worked with actors who are not puppeteers as they tend to bring more enjoyment to the act, more generosity and additional color. Sandrine and the puppet form a duo that blurs the boundaries between the manipulator and the manipulated. One wonders who has the real power. This ambiguous relationship with the puppet is really the foundation of my work.

No words
I'm not someone who likes to talk much and all my work rests on the purity of the gesture, which is a substitution for words. The characters speak but you don't hear them. I'm a great admirer of Chaplin and Keaton whose work revolves around visual and auditory signals. Their work has to do with scenography, the manipulation of objects, the choreography of the body and music. I try to be very rigorous in this work so it doesn't suffer from false interpretations. What I do is not a silent theatre but a theatre in which the audience forgets there are no words.

Dominique Duthuit, based on an interview with Alain Moreau
by Olindo Rampin and Alessia Tarasconi (Teatro Delle Briciole).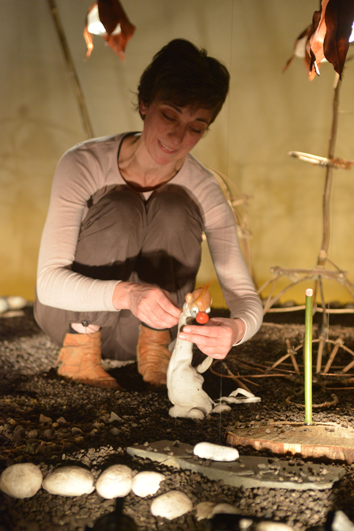 Antonio Catalano
A meeting much older than yesterday...

Antonio is a visual artist, musician, actor and, above all, a poet...

He lives in the company of other artists on a little hill in Montferrato, not far from the Asti in the Piedmont region of Italy. The creator of strange and singular worlds, he makes use of paint, sculptures and abandoned objects.

His aesthetic world makes you think of art brut in the way he uses materials and in his predilection for drift wood, leaves, vine branches, stones, nuts, etc. It is with these objects in installations that he approaches the public.... With his beautiful lunar presence, Antonio tells stories, plays the bombardon and sings nursery rhymes, inviting children to participate and letting them manipulate his funny machines. He has a very simple contact with children and an incredible facility for improvisation...
.

His art has a direct rapport with childhood, or what he terms the age of sight, which, this being how he operates, is a way of looking at the world with awe over the simplest things. And, hence, in his installations, he collects snowflakes, clouds, fallen leaves, drops of rain.... Antonio is an enchanter of space whose creations incite wonderment and surprise.

Wherever our regard comes to rest, there's beauty, poetry, humanity, something of childhood, something to keep deep inside, a treasure...an unforgettable experience.

And it's no accident that his company is called Sensitive Worlds!

He is a truly exceptional artist who poetically militates for our belonging, each one of us, to the world's heritage of humanity, an artist who finds it important to construct being mad about the marvelous, the amazed ones....

Alain Moreau met Antonio Catalano in Portugal in 2003, during the Percusos project which took place in several towns throughout the country, a sort of laboratory/festival to which they were both invited. This fine European project, created on the initiative of Madalena Vittorino and Giacomo Scalisi, reunited different artists to do research and to take the utmost liberty in achieving what they had never dared to do before within the city....

It was on this occasion that several facets of Antonio's work were presented such as The Sensitive Chest of Drawers, which can be entered by a single spectator, a sort of open door to imaginary worlds where you either lose or find yourself and leave behind your own traces....

One could also visit The Pavilions of the Marvelous,
 a homage to those 19th-century enchanting sideshows,
 a sort of village of multi-colored canvases in a range of different poetical approaches to the world.

And this was where the idea of working together first took root...

Infos : www.universisensibili.it
Max Vandervorst
A long-standing collaborator...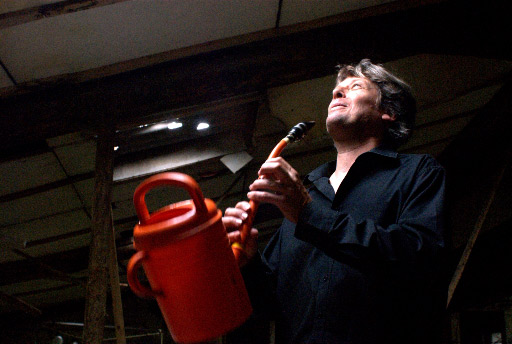 Indeed, the collaboration between Alain Moreau and Max began long before Tof's first show!

It was almost thirty years ago. Alain had just finished his actor's training and was working on and off in different theatres but was feeling rather bored. He had forgotten about puppets, about the true passion he had discovered one day deep in the family attic. He seemed bent on being an actor....

But then one fine day, during a common project for a street theatre company, the two of them met, at last!

Max had been hired to make strange musical instruments and Alain to act several roles, one of them a rabbit on a monocycle in an adaptation of Alice in Wonderland.

Following this exploit, our two fellow travellers set about creating their own street show, which turned out to be the unforgettable Duo de la corde molle.

After two one-time showings of this masterpiece, seeing that his fellow traveller seemed much more at ease on firm ground with his hands bursting with puppets than balancing in the air or perched on a monocycle humming unforgettable songs, Max offered to compose music for the puppet show Alain and Agnès Lebrun were tinkering around with in the abandoned workshop where they rehearsed....

And this is how the show Le tour du bloc brought Alain and Max together in a much more efficient way!

Radio Tom, Camping sauvage, Cabane, Bistouri, Fritkot, Sur la dune and Premiers pas sur la dune followed, in the same spirit of joy in collaborating together that continues today.

Collaborating on Piccoli Sentimenti has called for a different approach to working together. It has been a natural evolution, whereby the musical component enriches and influences the dramaturgy as much as the character and the scenography. Max has been very present from the show's first experimentations and he has been present at all the rehearsals. In a perfect osmosis with the world of Antonio Catalano, Max's instruments, built in the spirit of what we like to call Lutherie sauvage (Untamed Lute Making), were right at home!

While the scenography and dramaturgical discoveries of Antonio and Alain set the show in motion, Max's musical-visual input completed it and gave the performance an essential added dimension that soon became indispensable.

Untamed lute making
A musical instrument is an object that produces sounds for a musician to play and express himself. From the primitive "lithophone" to electronic music, humans have been making music evolve by simply hitting, rubbing, strumming or blowing into found or invented objects. Noises and sounds, melodies and rhythms from here and there, stringed quartets and electric-acoustic music are now part of a huge planetary vocabulary from which today's artist is free to draw.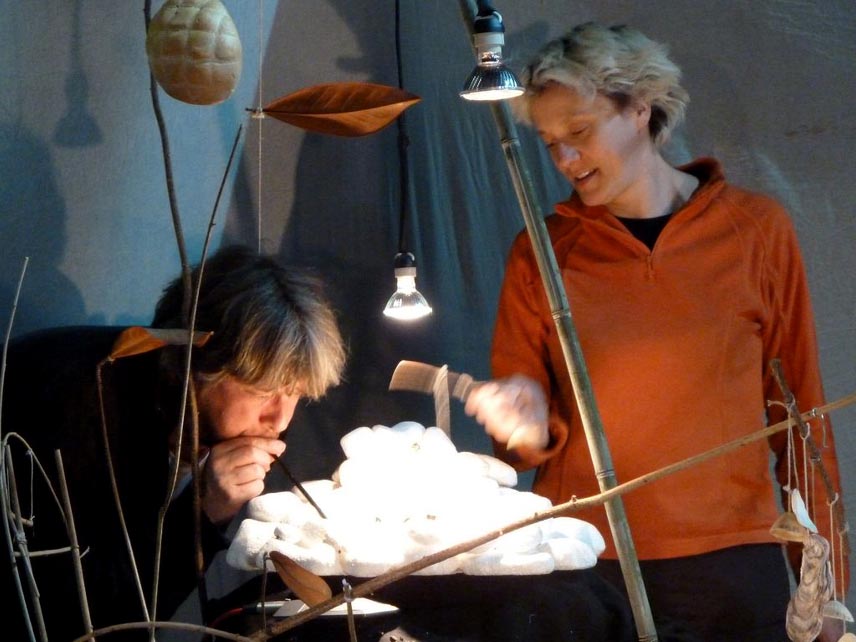 Through different styles and currents, "untamed lute making" involves creating musical instruments from objects not specifically designed for this purpose. It provides us with a permanent terrain of adventure and discovery, prompting us to continually exceed ourselves. From the musical clown to the "concrete" but specialized music of Pierre Schaeffer, the sound sculptures of Tinguely to the steel bands of Trinidad, generations of researchers and artists have strived to expand, once and for all, the very notion of the musical instrument.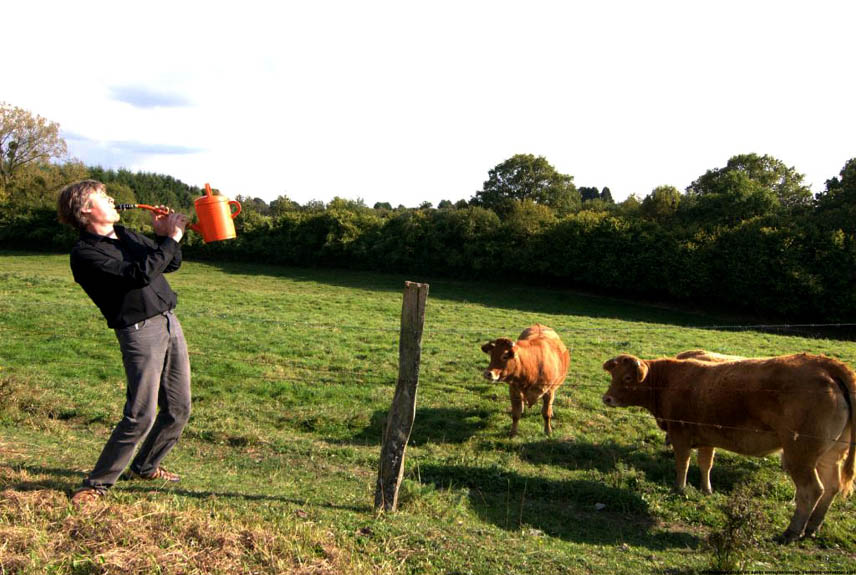 Not only does the use of these instruments enable us to find new, inimitable, never-heard-of-before sounds, from traditional instruments to electronic ones, they also introduce new ideas for how to compose for a kettle or a bicycle, bringing to the musician a completely different imaginary world from that contained in the symphonic formula or in the rock orchestra. In this unexplored territory, in so far as it hasn't been worked by tradition, the artist has no choice but to invent. Such an operation, in this sense, involves a profound element of play and reminds us that, even in its dictionary definition, music is made to be played. And lastly, "untamed lute making" pushes the boundaries of the musical domain in order to encounter poetry, theatre and sculpture.

Max Vandervorst
Max Vandervorst is a musician and inventor of instruments. Since 1988, he has created numerous shows in which his hand-made instruments have played a major role. His creations adapted from diverse objects include: Symphonie d'Objets Abandonnés;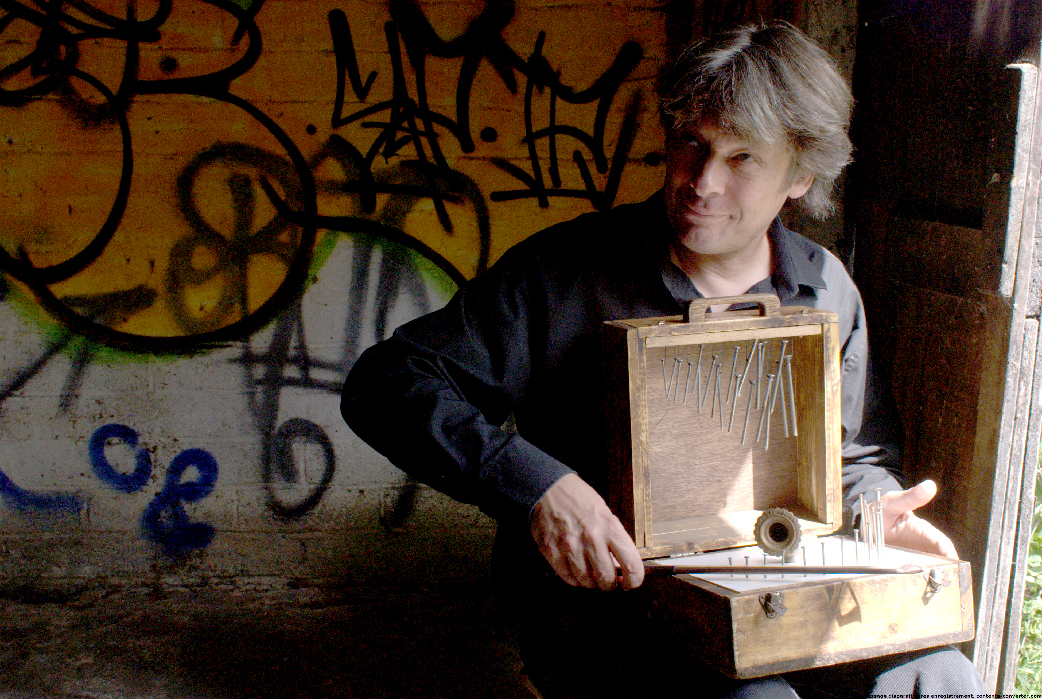 Concerto pour deux vélos, L'Homme de Spa, which continue to be shown all over the world. He is also a composer of music for the stage and the founder of the Pataphonie House in Dinant (Belgium) which is a magical place, entirely devoted to the world of "untamed lute making" in which anyone can discover or experiment with the strangest instruments ever imagined.

Infos : www.maxvandervorst.be




Technical data sheet downloadable by clicking on the wrench